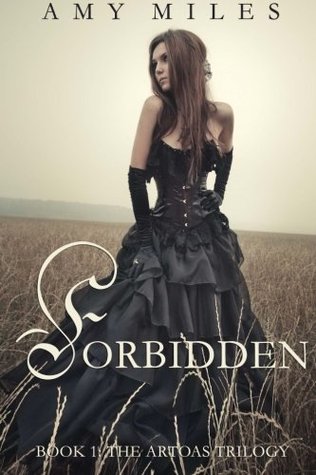 Forbidden by Amy Miles.  Published Jan 2011 by Amazon Digital Services.  CDN $ FREE for kindle
Roseline Enescue didn't ask to become an Immortal, to have all of the guests at her wedding slaughtered, or be forced into marriage with a man whose lust for blood would one day ignite the vampire legend. Willing to risk everything for a chance at a normal life, Roseline escapes to America. Terrified her husband Vladimir will find her, Roseline enrolls as a senior in Chicago's elite Rosewood Prep school. Mingling with humans is the last place he would look for her. But her transition into the human world isn't easy. Mortal men flock after her while cutthroat girls plot her demise. Yet Roseline remains relatively unfazed by the petty hysteria until she falters into the arms of Gabriel Marston, reluctant MVP quarterback, unwilling ladies man, and sensitive artist in hiding. Troubled by the bond that pulls her towards the mortal boy, Roseline tries to ignore him, but Gabriel is persistent. As their lives entwine, Roseline begins to realize that Gabriel is much more than he appears. His ability to toss a football the entire length of the field and grind concrete into dust pales in comparison to the glowing blue cross tattoo that mysteriously appears on his forearms. Despite the forbidden bond between them, Roseline can't help wondering what Gabriel is: He's not human. He's not Immortal. So just what is he? (Goodreads Excerpt)
Well I have to say I was pleasantly surprised at this book. I'm really glad I didn't read the reviews before picking it up. I think the author must have revised and edited the book since some of the reviews on goodreads indicate issues with this. From my perspective there are very few errors (certainly none that detracted from the book). Anyway I have to say this was a refreshing take on the vampire genre. It was very original and you are left wondering what is going to happen and what exactly is Rose and of course Gabriel. They are not human, but what are they? I will leave that to you.
Let me start with the prologue – OMG what the frig? I mean holy crap that was some intro. Certainly not a typical YA book but well worth the read. The beginning of the book was a bit slow after the riveting intro, but it picks up fairly quickly and turns into a real page turner that sucks you in and doesn't let go. The story line is a little more gory than most YA reads.
Rose is awesome. She is real and flawed (which I like in a MC) you instantly feel empathy for her and you want to see her succeed and definitely want to see her get away from…oops don't want to give anything away so I will say…that thing that holds her back…lol. My only complaint with Rose is that sometimes she comes off as a bit young (considering her immortal age not her appearance of age). Her relationship with Gabriel is endearing and heartfelt and you just want to keep reading to find out if it works out…sigh! I won't tell you what happens.
Overall I loved the book. It was different and exciting and easy to read. It sucks you in and keeps you there until the very last page. I look forward to the next book. I hope they explore more about Rose's past and the legends that led up to her being what she is.
4 stars for me.