Teaser Tuesdays is a weekly bookish meme, hosted by MizB of Should Be Reading. Anyone can play along! Just do the following:
• Grab your current read
• Open to a random page
• Share two (2) "teaser" sentences from somewhere on that page
• BE CAREFUL NOT TO INCLUDE SPOILERS! (make sure that what you share doesn't give too much away! You don't want to ruin the book for others!)
• Share the title & author, too, so that other TT participants can add the book to their TBR Lists if they like your teasers!
My Teaser:
"Which was voided when you died, Avry." He sat next to me and pulled me in close, wrapping an arm around my shoulder.
I leaned against him, breatihng in his scent of spring sunshine and clean earth. Every time we talked about my death, he'd sought my touch as if he still couldn't believe I'd survived. Considering the plague had a hundred-percent fatality rate and it had indeed killed me a week ago, his actions were understandable.
2% on Kindle
(I cheated a little on the two sentences… couldn't help it 🙂 )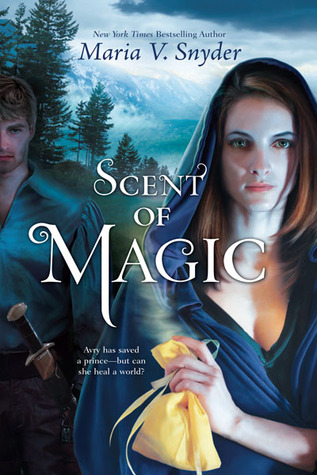 Scent of Magic (Healer #2) by Maria Snyder
I havent had much time to read lately and I have just barely scratched the surface on this one.  I loved the first book and can't wait to get into it.
PLEASE LEAVE A COMMENT with either the link to your own Teaser Tuesdays post, or share your 'teasers' in a comment here (if you don't have a blog). Thanks!
Teaser Tuesday is a meme hosted by Should Be Reading. Check out their blog!