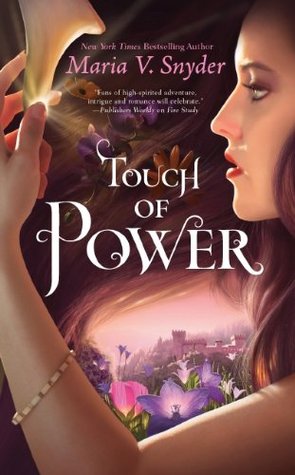 Touch of Power (Healer #1) by Maria Snyder. Published Dec 20, 2011 by Mira CDN $8.79 Kindle edition
Laying hands upon the injured and dying, Avry of Kazan assumes their wounds and diseases into herself. But rather than being honoured for her skills, she is hunted. Healers like Avry are accused of spreading the plague that has decimated the Territories, leaving the survivors in a state of chaos. Stressed and tired from hiding, Avry is abducted by a band of rogues who, shockingly, value her gift above the golden bounty offered for her capture. Their leader an enigmatic captor-protector with powers of his own is unequivocal in his demands: Avry must heal a plague-stricken prince, the leader of a campaign against her people. As they traverse the daunting Nine Mountains, beset by mercenaries and magical dangers, Avry must decide who is worth healing and what is worth dying for. (Goodreads Excerpt)
Well I have to say I was not disappointed in this book. I haven't read one of Snyder's books in a while and forgot how much I love her writing. I am always amazed at how easily you get sucked into her world. No detail is left out and you are so immersed in the story it feels real, enabling you to really empathize with the characters. It isn't over the top or overwhelming with weird names and odd places, but it feels like it could be a real world with real people. Oh did I mention that I love everything to do with Magic? So this was a treat and a half!
I love Avry. She is so real and developed that you instantly feel compelled to know her story. She is down to earth and stubborn and feisty and everything you want from a MC. And OMG I loved watching her and Kerrick interact. They are both stubborn and opinionated and weary with life trials and tribulations, to admit to their feelings of any kind.
Overall I am thrilled with this book, the suspense, drama, action and everything in between was amazing and engaging and I can't wait to get my hands on the next book!
5 stars for me.