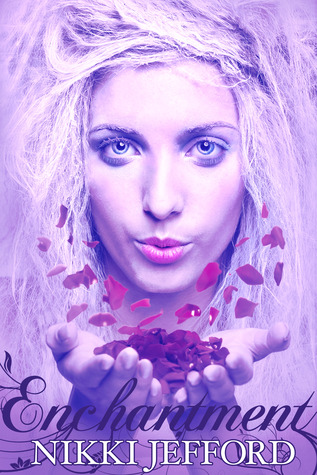 Enchantment (Spellbound #3) by Nikki Jefford. Published April 6, 2013 by the Author.  CDN$ 4.04 Kindle edition.
Graylee Perez returned from the dead, took on a duplicate, and now faces her biggest adventure yet.
Barcelona.
Summer escape.
Or so Gray thought until her old adversary, Adrian Montez, brings his magic show to Spain.
Gray seeks out a Spanish wizard to help banish Adrian from her life once and for all. Instead, she tumbles headfirst into a love spell with the arrogant warlock.
When old enemies close in on them, Gray must face her true feelings and decide if Adrian's worth fighting for and, more importantly, whether he's worthy of her heart. (Goodreads excerpt)
WOW is all that comes to mind when I finished this book. What an amazing conclusion to a fabulous series. It is hard to write a review about the third book without giving anything away so this will be short and sweet.
I have to admit that I wasn't a fan of Adrian in the first two books. He came off a little sleazy and a little bit evil, but I like that we get to know him on a more personal level in the third book and I have definitely changed my mind. He is a little bit bad (part of the appeal) but he has some good in him that is brought out by Gray. I think Adrian is the catalyst that made this book so good. You keep waiting to see which side he is going to land on and you really get swept away…not to mention the romantic elements that come into play here as well with the spell casting and everything else. Wink! wink! No spoilers please!
One of the amazing things about this series is the Gray/Graylee/Lee scenario with all three girls really being the same person but branching off on their own. I know this sounds a little complicated and I don't want to spoil it but suffice to say it is an amazingly original concept that keeps you on the edge of your seat.
I have to say that this series is amazing and I can't wait to dive into another Nikki Jefford story. She really is an amazing author!
5 amazingly hot stars for me!