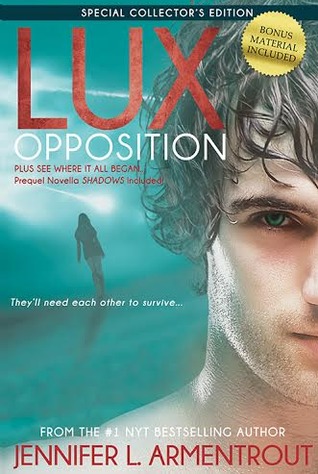 Opposition (Lux #5) by Jennifer L Armentrout.  Published Aug 5, 2014 by Entangled Teen. CDN $7.99 Kindle edition.
Katy knows the world changed the night the Luxen came. She can't believe Daemon welcomed his race or stood by as his kind threatened to obliterate every last human and hybrid on Earth. But the lines between good and bad have blurred, and love has become an emotion that could destroy her—could destroy them all. Daemon will do anything to save those he loves, even if it means betrayal. They must team with an unlikely enemy if there is any chance of surviving the invasion. But when it quickly becomes impossible to tell friend from foe, and the world is crumbling around them, they may lose everything— even what they cherish most—to ensure the survival of their friends…and mankind. War has come to Earth. And no matter the outcome, the future will never be the same for those left standing. (Goodreads Excerpt)
Well what can I say now that it is all over? It was quite the ride I have to admit that. I was absolutely thrilled with the conclusion to the series. It was an amazing, tense, heart pounding, on the edge of your seat thrilling and wow…swoon worthy too!
I have become a HUGE fan of Jennifer Armentrout. She has not disappointed me yet and I can't wait to read whatever she comes up with next. Amazing story telling, world building, character development and everything else that makes a book hard to put down.
It is hard to come up with a review for the fifth book without giving away anything from the previous books so I will leave it at this…
Absolutely amazing 5 star read!