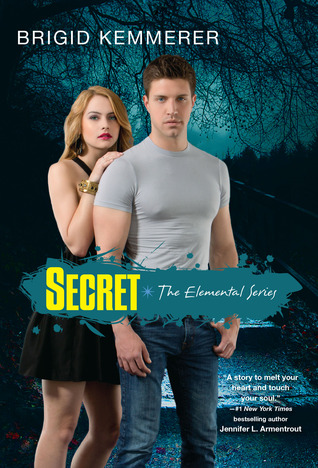 Secret (Elemental #4) by Brigid Kemmerer.  Published Jan 28, 2014 by Kensington Teen. CDN $9.85.  I couldn't find this on amazon for the kindle but bought it on ibooks for my ipad.
Nick Merrick is stretched to breaking point. He's trying to keep his grades sky-high or he won't get in to college. He's trying to keep his brother's business afloat or the Merricks will be out on the street. He's trying to keep the secret of where he's going in the evenings from his twin brother Gabriel – or he fears he'll lose his family. And he's trying to keep his mind off the hot, self-assured dancer who is his 'girlfriend's' partner. And then Quinn takes to hanging around his sworn enemy, and an Elemental Guide is counting the hours until he can try again to kill the Merrick brothers. Storms are brewing. On all sides. SECRETS IN THE WIND. DANGER IN THE AIR.(Goodreads excerpt)
OMG I cannot say enough about this series. I have loved every book, every novella, everything about this story! This one lives up to the rest…I am dying not being able to read the next one until arrggghhh SEPTEMBER…NOOOOOOO!!!!
OK calm down. Each of the elemental books features one of the Merrick brothers and is written from their POV. (Sprit the third book is Hunter's POV who is not a brother) Each of the Merrick brothers controls a different element (Air,Fire, Water, Earth) and Hunter is a guide who controls all four. Nick is an Air elemental and this story is about him. This story promised to be different and Brigid didn't disappoint. I won't give anything away but you are drawn into this story more intensely than the others because Nick is fighting his own demons and not just the dangers that he shares with his brothers. It is captivating and endearing and a wicked page turner…
The one thing that threw me with this book is that it isn't all about Nick. I'm not sure I liked that, but you got a lot about Quinn and her issues. Not that her issues are not important but at times it took away from Nick's story and I wanted to know more about him. I did like that we got to see more of the back story for the villain in this one though…again I won't spoil it so that is all I'm saying…lol sorry L
This series continues to delight and amaze me. Brigid keeps you on your toes with the action and suspense, twists and turns and I can't wait for book 5 Sacrifice.
In case you haven't figured it out…5 wickedly good stars for me. I would give it more if I could.