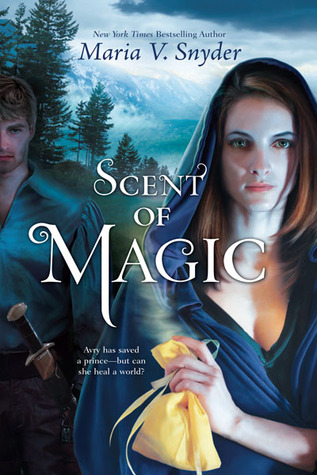 Scent of Magic (Healer #2) by Maria V Snyder.  Published  Dec 18, 2012 by Harlequin MIRA. CDN $ 8.79 Kindle Edition.
As the last Healer in the Fifteen Realms, Avry of Kazan is in a unique position: in the minds of her friends and foes alike, she no longer exists. Despite her need to prevent the megalomanical King Tohon from winning control of the Realms, Avry is also determined to find her sister and repair their estrangement. And she must do it alone, as Kerrick, her partner and sole confident, returns to Alga to summon his country into battle.
Though she should be in hiding, Avry will do whatever she can to support Tohon's opponents. Including infiltrating a holy army, evading magic sniffers, teaching forest skills to soldiers and figuring out how to stop Tohon's most horrible creations yet; an army of the walking dead—human and animal alike and nearly impossible to defeat.
War is coming and Avry is alone. Unless she figures out how to do the impossible … again. (Goodreads excerpt)
I absolutely love this story. I am a big fan of Maria Snyder and this continues to delight to no end. I love how she pulls you in so completely to the story that you don't want to leave. Her characters are so real that you want need to know what happens next. The story is full of action and intrigue and it keeps you guessing around every turn. The story is very original and is a page turner from start to finish.
This book is a little different from the first in that you see both Avry and Kerrick's POV. It threw me a bit at the beginning because Avry's part is written in the first person but Kerrick's is in the third. I got over it quickly and enjoyed the back and forth. I'm a fan of two points of view. You get to see more of Avry on her own as well as Kerrick (which is nice) and less of the romance (not so nice) that the first book had. I'm hoping that we get back to the romantic part of their relationship in the next book.
Overall this was an excellent sequel. I try not to say too much in my reviews especially of sequels. I don't want to give any spoilers, so here it is in a nutshell…
Awesome, intriguing, engaging and fun story with lots of twists and turns and OMG's! And what is not to like with all the magic and mystery and cool characters fighting for a life or death battle of good vs evil!
In case you haven't figured it out…5 stars for me!
impossible … again. (Goodreads excerpt)