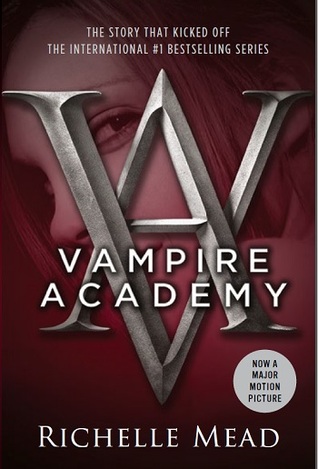 Vampire Academy by Richelle Mead. Published Aug 16, 2007 by Razorbill. CDN $10.99 Kindle Edition
St. Vladimir's Academy isn't just any boarding school—it's a hidden place where vampires are educated in the ways of magic and half-human teens train to protect them. Rose Hathaway is a Dhampir, a bodyguard for her best friend Lissa, a Moroi Vampire Princess. They've been on the run, but now they're being dragged back to St. Vladimir's—the very place where they're most in danger. . . .
Rose and Lissa become enmeshed in forbidden romance, the Academy's ruthless social scene, and unspeakable nighttime rituals. But they must be careful lest the Strigoi—the world's fiercest and most dangerous vampires—make Lissa one of them forever. (Goodreads Excerpt)
I have to say that I really like this book.  I'm not a big fan of long series books, but the first book is easily read on its own and doesn't just end in the middle of a major plot point.  Not that you're not dying to find out what's next, but at least it finishes the major conflict at the time. The characters are amazing.  I'm a big fan of Rose.  She is one kick ass heroine and I love how fiercely loyal she is.  Throw in the steamy Dimitri and OMG you've got major intrigue, romance and action all in one book.  Did I mention that Dimitri is HOT!
I liked how original this book is too.  How the author builds her world around what we expect from vampires, but throws in a twist.  Not a sparkly kind of vampire twist but an original live and dead vampires twist.  (Don't want to spoil anything so will leave it at that…lol)
The only weird thing for me is that I couldn't get over how similar it is to the covenant series by Jennifer Armentrout. I mean it is like both books were following a guideline or something.  I don't want to go into too much detail but it was eerily similar, which is amazing since this was about vampires and the Covenant series was about Gods, demigods etc. Then I realized that Vampire Academy came out first, so it is not any reflection on this book.  Hopefully the similarities end with the first book only. I really enjoyed the Covenant series however so don't get me wrong I'm not complaining, it's just weird.
Back to VA.  I have to say this is now on my top ten list. I can't wait to get started on the next in the series and now am looking forward to the movie.
5 stars for me for sure!