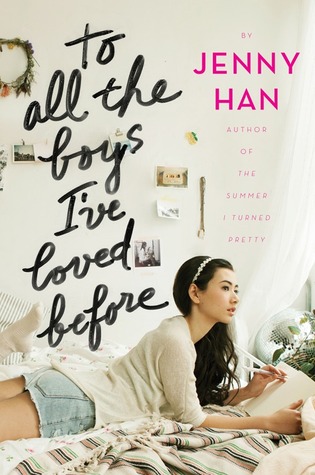 To all the boys I've loved before by Jenny Han.  Published April 15, 2014 by Simon & Schuster Books for Young Readers. CDN $11.99 Kindle edition.
I received this book free in a giveaway on Goodreads.
To All the Boys I've Loved Before is the story of Lara Jean, who has never openly admitted her crushes, but instead wrote each boy a letter about how she felt, sealed it, and hid it in a box under her bed. But one day Lara Jean discovers that somehow her secret box of letters has been mailed, causing all her crushes from her past to confront her about the letters: her first kiss, the boy from summer camp, even her sister's ex-boyfriend, Josh. As she learns to deal with her past loves face to face, Lara Jean discovers that something good may come out of these letters after all. (Goodreads Excerpt)
This is not the type of story I usually read. However I have to say that it is absolutely adorable. It is a little young for my taste, more middle grade than young adult, but it is very well written. It is light and easy to read and just an all around sweet book.
I was sucked in from the start with the idea of the love letters. It is so honest and endearing and I can't imagine being that age and having my private love letters sent out. I mean she reveals all her deepest thoughts on paper being totally honest and not ever expecting anyone to read it.
The relationships between Lara Jean and the other characters seem true to life. I was a little (ok whatever that isn't real) at first when seeing the relationship with her sisters. I after all have a zillion sisters and we fought like cats!) But you see the realness of the relationships as it progresses and it shows the deep love and affection sisters have for each other no matter what gets in the way.
I loved how Lara Jean and Peter K interact with each other during their pretend relationship and you totally fall for them. I was rooting for Peter and angry at him too. It was cute and romantic and sweet and….you get the picture.
While this wasn't full of witches and demons and all kinds of crazy fantasy that I normally read, it was sweet and light and fun to read. I give it 5 stars and look forward to the next book!